A Look Back at 2019
I hope you all had a fantastic year! This year was another busy one for us. Let's take a look at what happened in 2019, and then talk about what we can all look forward to in 2020.
Siralim Ultimate was announced!
The latest installment of the Siralim series was announced last month, and I can't wait to dive deeper into all of its features in upcoming blog posts. This is our most ambitious game yet, and I'm very excited for players to try it out in just a few months from now.
Siralim 3 was released on Nintendo Switch, Xbox One, and PlayStation 4!
This year marked the first time we've ever released a game on Nintendo Switch and Xbox One. Playing my own game on a Nintendo platform was a childhood dream come true. I was very happy to be able to get our cross-platform cloud saving functionality working on the Switch as well.
I also did an AMA on /r/NintendoSwitch. You might find some of those answers interesting if you're into that kind of thing.
Siralim 3 was released in physical format for PlayStation 4!
Limited Run Games once again helped us out by publishing physical copies of Siralim 3 on PS4. Hope you managed to grab a copy for your collection before they sold out!
We launched a new merchandise shop!
Earlier this year, we revamped our merchandise shop and launched a whole new line of products, including mugs, phone cases, posters, and much more! Keep an eye out for Siralim Ultimate merchandise in the near future as well.
Project Bestiary started and ended
We started a podcast about monster catching games called Project Bestiary. The podcast ran for a total of 20 episodes, but I decided to put this project on an indefinite hiatus so that I could dedicate more time to making games. I still haven't decided if/when the podcast will make its return, but I hope everyone enjoyed it while it lasted! The episodes are still available on the Project Bestiary website, so check them out if you haven't done so already.
Creature of the Day started and ended
Every single day on Facebook and Twitter, we posted a "Creature of the Day" image that featured a randomly-selected creature's lore, stats, trait, and a custom drawing of that creature. Now that the year is over, however, I have decided to stop releasing Creatures of the Day. I'm afraid that such constant spamming annoys a lot of people, not to mention it clutters our social media pages and makes it difficult to find important information such as game announcements. While I'm sad to see this feature go away, I hope you enjoyed it while it lasted!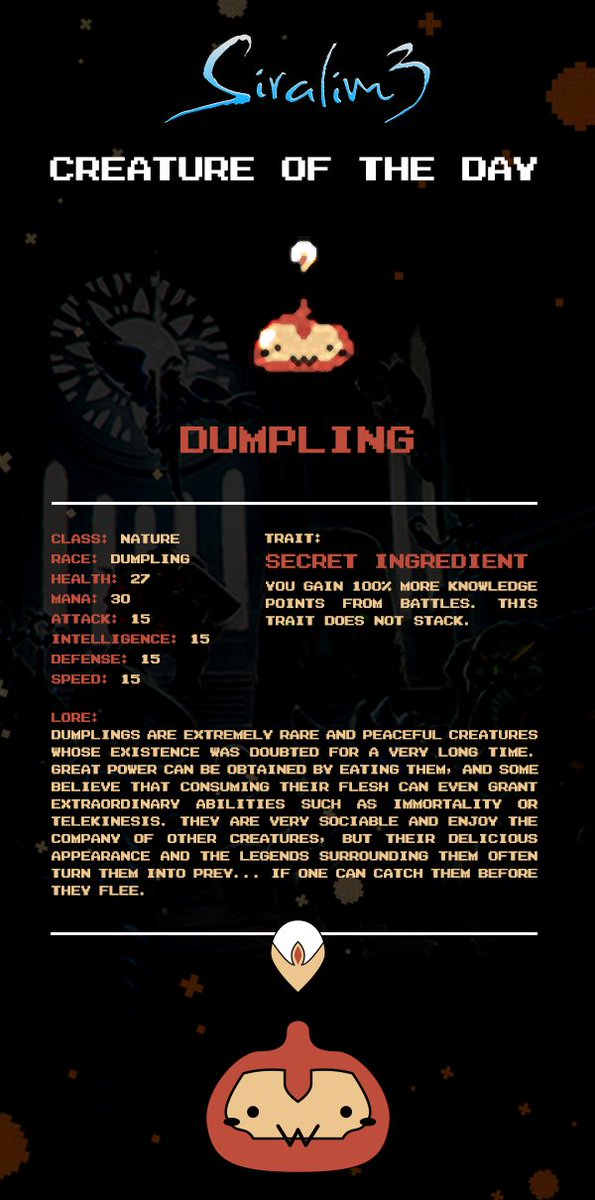 What's in store for 2020
Siralim Ultimate Kickstarter
We're going to launch a Kickstarter for Siralim Ultimate in early 2020. All the proceeds from this Kickstarter will be fed back into the game to add even more content and polish to it. It will also give players the opportunity to add their own ideas to the game!
Siralim Ultimate will be released on Steam, iOS, and Android!
This game is shaping up to be absolutely massive. It's going to have more content than all three of the previous Siralim games combined, and I know you're going to love it. And with your help, we're going to make it even better.
We also look forward to bringing Siralim Ultimate to consoles in 2021.
Trial of the Gods: A Siralim Collectible Card Game
Yes, we finally have a name for our upcoming digital card game: Trial of the Gods! Jay and I have been play-testing it for a few weeks now, and it's an absolute blast to play. We're almost done with the trailer, so you can look forward to that in just a few weeks from now, as well as a full feature announcement. We'll also have a few blog posts dedicated to this game before it releases on Early Access. We're currently targeting early February for Early Access on Steam. It will make its way to iOS and Android later in 2020 as well, but we're still not sure if it will come to consoles yet.
And a quick note about The Negative
Right now, my full focus is on development for Siralim Ultimate and Trial of the Gods. For that reason, The Negative is once again on the back-burner so I can fully dedicate myself to my other games. I realize this is disappointing news for some people, but the truth of that matter is that I'm still not 100% satisfied with the direction The Negative was heading in. I'm going to need to re-visit it at a later time with a clear mind and try to re-think some of its core gameplay mechanics. This is an extremely personal game for me as it's a gamified representation of my own philosophies and ideals, so it's very important that I do it all the right way.
Just to be clear: The Negative is not canceled.
Thank you!
I can't thank you all enough for yet another year of your support. It is absolutely humbling to watch so many players interact with each other and discuss their love for the Siralim games. Your passion is what drives me and the rest of the team to work as hard as we possibly can to continue delivering deep, engaging gameplay experiences to you.
I hope you and your family have a happy and safe New Year! 2020 is going to be our biggest year so far, and I can't wait to show you all the amazing things we've been working on.
– Zack Bertok